Some little girl must have been very happy to get this pretty pink tea set many years ago....
I set a little place setting with my daintiest fork and spoon...
I love this set of ruffled plates. They are so small that they aren't salad plates. Maybe they are bread and butter plates.
As my sister said, they are the perfect size to hold some little delight...what a sweet thought.
These aqua salad plates came from the Rescue Mission... I rescued them for about a buck each, I think.
I love colored glasswear.
I am not a crystal stemware girl...
I don't own any fancy Waterford.
Colors are cheerier...
This set of pink and green depression glass goblets is really special. They were a gift from a dear friend.
Her great aunt left them. She couldn't use them but thought of me, knowing I love pretty things with a past.
They're in my home to stay!
Each time I look at them, I think of spring...even on a cold January day.
Hope your day is bright!!
Love and Hugs,
Jennifer
Now it's Show and Tell Friday at: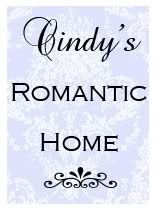 But if you missed them, please check out: